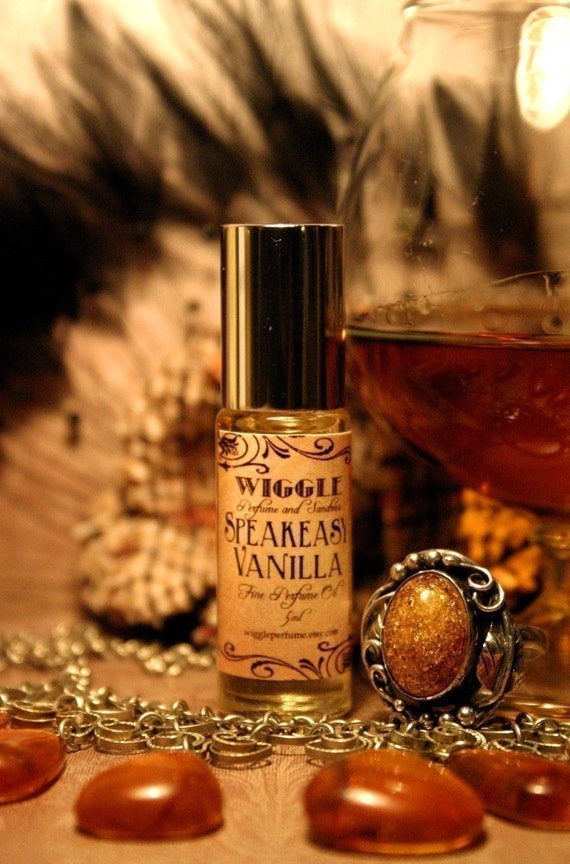 Speakeasy Vanilla by WigglePerfume                                     5ml Perfume Oil for $15 from WigglePerfume on Etsy
Notes: Bourbon vanilla, creamy vanilla, sultry amber, smoky frankincense, white musk and bay rum.
This fragrance from the bottle smells pretty much how it does on my skin. It's strong, spicy and rich. At first I get a dark bourbon vanilla and frankincense but that softens a little into the background and a subtle creamy vanilla comes out. The amber and vanilla base is lovely – perfect combination and artfully blended.
It's cooler (at the start before it warms up) than most of my vanilla perfumes and it reminds me ever so slightly of Eau Duelle by Diptyque but much nicer. Sometimes I get wisps of patchouli and cardamom which is strange because they're not listed notes. It reminds me of something some of my friends would wear – my hipster alternative friends that is. I think it's a little too much for the office or fancy parties. It does really smell like it would suit a tipsy day of baking in the kitchen with music – which makes me happy. 8/10.
"I'm not usually a vanilla person. It's such a classic, feminine, and decadently sexy scent, I've always really wanted to like it…but just couldn't. Well, I've fixed that problem! My Speakeasy Vanilla is another thing altogether, not cloying or overly precious. This vanilla does not wear pigtails. It does not have a "daddy's little girl" license plate holder. This vanilla is a grown ass woman who spent a hot, tipsy day in the kitchen, rocking out to Etta James in heels, perfecting her creme brulee. Or something like that…" – Nani from WigglePerfume